An article by Jennifer Lamb

No Comments
In April, we had a conversation on Facebook around a picture of drawn stick figures using their arms to show what graphs would look like. I asked Cory if he could create figures and this is what he came up with! They are awesome. Now, knowing I have not done this stuff since college (we don't do this in Elementary!) please let us know if one needs to be changed!
Download PDF: Math Stick Figures
Tyler Wood was awesome and took these pictures and set them to simple music. I can imagine the possibilities of using this video for into, review, or even just a brain break reminder. Thanks Tyler!
So, our smart cookie Levi Patrick noticed something amiss with one of the characters. This is his solution. My suggestion would be to use it as a teachable moment 🙂 – That's why I stay in the lower grades 😉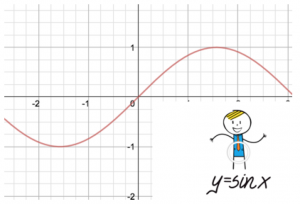 You can actually find a more accurate sine function for the same image by clicking on the image below:

How cool is this as a discussion in your classroom! Love this!
Leave a comment
You must be logged into post a comment.