Coordinate Grid Word Wall

An article by Jennifer Lamb

No Comments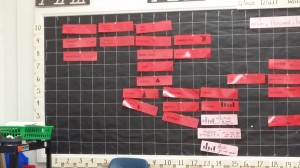 Is this not the coolest math word wall idea?
Mr. Allen is a fourth grade teacher at Lee Elementary in Oklahoma City. He has his word wall set up as a coordinate grid.
When he refers to a word on the word wall, he uses its location, as an ordered pair, to help the students find it.
For example, introducing the word "volume' may involve a student posting it at (5,7) and later if someone asks how to spell the word, the teacher can tell the student where to find it exactly on the grid.
Mr. Williams, a fifth grade teacher at Lee Elementary,  has his word wall on a number line that wraps his entire room. He can then use the numbers to help the students find the words they need.
This would work with any class word wall, integrating math and reading!
I wonder what it would look like if you started with the number line in younger grades, the first quadrant of the coordinate grid in the middle grades and then by 5th/6th or even middle school, you could have the word wall on a full four quadrant coordinate grid…
Leave a comment
You must be logged into post a comment.