An article by
Levi Patrick

No Comments
After an early morning drive to this year's REAC3H Regional kickoff meeting in Lawton, my wife and I made the short drive to Wichita, KS to attend our first ever EdCamp. My review: 1) Lot's of ed tech focus (maybe too much for me, but still great!) and 2) With a little education on how they work, this is the future of professional development…it's awesome.
Not only did I meet/see some of the folks in my Twitter PLN (@MrsBeck25, @dankrutka, @ChrisParadise), I met quite a few new folks that are now part of my network (@TechIntegratio1, @MrP_tchr, @kfepaxson, @AnibalPachecoIT, @LauraGilchrest4, and @MsFithian).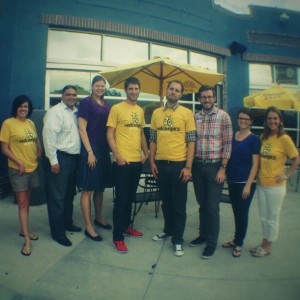 To help frame my summaries of each of the sessions I attended, keep in mind that I attended this session just for my own learning and much of the conversations are around educational technology, which not only interests me because of my work to develop the #OKMath Professional Learning Network using platforms like Facebook, Twitter, Google (including Drive, Communities, Circles, and Forums), WordPress, and a few others, but also because I still work at the University of Oklahoma with Student Teachers. Thus, my thoughts:
Evernote for Education
This was a good, fairly introductory-level look at Evernote hosted by Cyndi Bowman (@bowmancyndi), but some of the interjections by the participants were fantastic. I am a huge fan of Evernote and it is one of the best FREE apps you'll ever find. I use it on my computer, my phone, my iPad and it works wonderfully on the all browsers. I heard some great ideas involving using it to have students track their investigations by taking pictures, recording audio clips of their thoughts and more. One attendee suggested using the program to do pre-reading for students who might benefit from having various text read aloud for them. I know Josh Flores (@mrjoshflores) is a pro-user and has some amazing ideas on how to use it for creating student portfolios. If you're interested in learning about using Evernote for student portfolios, check our this great introductory blog post, which links to Rob's main blog, Evernote as Portfolio. I think Josh is working on some guidance on this topic as well, so I'll keep you posted on his progress.
The gist: If you are addicted to being organized, or you are in desperate need of organizing a million things, give Evernote a shot. It is sure to not disappoint.
My Review – I'd give it 3 out of 5 stars. The presenter was knowledgable and did a great job of introducing Evernote. Because I'm already a fairly advanced user and because I think it would have matched the EdCamp philosophy a bit better, I think it would have made sense to do a brief introduction into the power of Evernote and then to split the group into Novice and Expert groups to let each explore what they needed. For example, the Novice group might have set up accounts and explored the basic user interface, perhaps discussing best practices for getting their Evernote space organized. For the Expert group, I really think we could have had some cool conversations about best practices that may have helped to expand how each of us could imagine harnessing the power of Evernote. I feel like I might have learned quite a bit more that way. Although the session was a bit more presenter oriented than what I had expected, I still think Cyndi did a wonderful job sharing her experience using Evernote.
Tools for CCSS
While I'm not a pro-education-technology user, I know my way around apps, servers, and the like. Really, I very rarely feel overwhelmed thinking about technology; until this session. I know there are a million and one apps out there that can be used to promote critical thinking, creativity, etc., and I think it is important for educators to explore what resources are free and available to them. Lisa Lund (@TechIntegratio1) took what is likely a few year's worth of exploring, experimenting, and evaluating various education apps and basically gave us a one-hour crash course… and it hurt. I really could have spent one hour exploring each of the some 20 apps we were introduced to, but we only got about 2-3 minutes each. This is definitely not a critique on Lisa! She was very knowledgable, encouraged discussion around application opportunities for many of the apps, and invited participants to share their own ideas about useful apps. The only problem was that we were just overwhelmed at her expertise on the topic! However, I left with a pretty outstanding list of apps presented below, just for you.
The gist: If you are looking for some great apps to engage your students more deeply, start here.
Education Apps and Websites
My Review – Again, I'd give this one 3 out of 5. Lisa really knew her stuff and I feel like I'm able to communicate those resources for folks, but I think this session was really missing two critical ingredients. First, I think it might have been a bit more productive to narrow our focus so that we got to play around with the apps we were interested in. Second, with a title like Tools for CCSS, I think a critical question was missing: What makes an app (or anything) CCSS? With "Common Core," "CCSS," and things like "college and career ready" being throw around as adjectives like we've used them all along, I think it is worthwhile to consider what actually makes something worthy of being "CCSS."
Blogger vs. WordPress
I suggest skipping this one if you aren't interested in getting a little tech-heavy. The basic idea in Anibal's (@AnibalPachecoIT) session was if you want to blog, you can start simple with something like Blogger (through Google – uses Blogspot as domain), Weebly, or WordPress. Each of these is free as long as you're okay with having a domain name in the form of "http://name.platform.com." For example this site, if hosted through Weebly would be http://okmathteachers.weebly.com. This isn't a big deal and I'm pretty sure each site has a paid version that allows you to use your own domain name that you buy from someone like GoDaddy or BlueHost.
The gist: This whole session was about how to blog and from my standpoint, Weebly is the best for someone without any desire to waste time thinking about design, layout, or anything too cumbersome. Blogger is more straightforward and has some more flexibility, but isn't as drag-and-drop simple as Weebly. Of course, you can use it and do great things with it without much effort too. WordPress is really the same story, but even more flexibility.
Where this can get even more overwhelming is when you begin thinking about hosting your own website and really customizing it. For example, this site is built on a local installation of WordPress. This allows for tons of flexibility, but you have to do your own investigation of servers, domains, and other website building skills. Don't let this detour you though. Start with a version that makes your life easy and your writing process seamless. Add complexity only when you need it….and truthfully, that time may never come.
My Review – Can you tell I'm critical yet? I'd give this session a 2 out of 5. Not because it wasn't good, but because it really focused a little too much on the presenter talking about website jargon. This was miles above the heads of most of the participants and for others, such as myself and a few that I spoke with afterwards, it was just too basic. I think by this point in the day it is mostly my fault that I didn't suggest breaking the group into beginner and advanced so both audiences could benefit more. With that in mind, I'll revise to a 3 out of 5. Definitely, my big takeaway from this session is that there are plenty of options out there if you want to blog and plenty of folks who have experience doing it well. If you're interested at all, I definitely suggest giving it a go!
GooPLE
This session introduced a new term that I think creates some value in the way I think about virtual learning. The GooPLE is the Google version of the Personal Learning Environment. The gist: The entire learning experience utilized free Google platforms starting with the basic Gmail Account and expanding to Google Drive (Docs), Google Sites, G+ and Communities, and Chrome (powered by tons of free apps).
For the past few semesters, I've worked at OU as a Student Teacher Supervisor. This work has been incredibly valuable for me, especially after implementing a public blog for the students. You can check it out at http://ti-hub.blogspot.com (see my comments about the ease of Blogger above). This year, I'm going to keep using the blog as the public journal for the students, but I have now created a Private G+ Community to help expand the Google Personal Learning Environment for the student teachers.
My Review – I thought this session was great and give it a 4 out of 5. I really got a ton of ideas about the power of Google + and the Communities that can be created there to help organize your classes. I especially appreciated the focus on "FREE" since so often schools (particularly higher ed institutions) put a lot of money into very pricy programs that really do the exact same thing. I know I learned a lot and will be using G+ more with my student teachers in the future.
Rocks and Sucks
If I haven't had the pleasure of meeting you already, you might not already know that one of my favorite pastimes is arguing. I'm not actually that good at it, but I love knowing that when people tell me what they think about a certain topic that they have some good reasons for it. I'm not always that concerned about the "goodness" of it really…mostly I just care that they believe in a principle idea that supports their stance.
Enter, Rocks and Sucks. The gist: One the projector, the hosts would flash up a concept or educational idea, let's say "Real World Connections" and the entire group of participants would shift to either the Rocks side or the Sucks side. Then, a two-minute timer would start and we argued. Rinse and repeat.
I loved this. Even on the example topic of "Real World Connections" my good friend and amazing Social Studies educator, Dan Krutka, and I would make our way to the Sucks side partially because we want to argue and partially because we felt like we had something to say. His argument: Isn't what we're doing "real" already? And, shouldn't connections be the default setting for good and meaningful instruction? Good thought Dan. My argument: What's so wrong with Imaginary World Connections? Barb Gilman (@BarbInNebraska) helped capture my argument here:
"If an elevator is falling and Superman is 100 miles away, how fast does he have to fly?" @_levi_ #edcampks

— Barb Gilman (@BarbInNebraska) August 3, 2013
My Review – I give this session a 5 out of 5. It was 100% focused on the participants. We were engaged and thinking the entire time! I know 4 Corners (Strongly Disagree, Disagree, Agree, Strongly Agree) gets a lot of attention, but this was just so simple, I love it and I'm pretty sure it could be easily renamed to "Rocks or Knocks" or something more clever. Really, if you let me argue, I'll love you! 🙂
Quick last thought: Ed Camps ARE. THE. BEST.
Leave a comment
You must be logged into post a comment.