OK Higher Ed STEM Summer Academies for Students

An article by
Levi Patrick

No Comments
This summer, spend time at an Oklahoma college or university and discover the fascinating worlds of aeronautics, forensic science, engineering, environmental conservation and much more!
Summer Academies are FREE!
Be sure to request applications from the contact person listed under the academy you choose. Or call 1.800.858.1840 for more information.
What – Free STEM Summer Academies
Who –  8th – 12th grade students as of Fall 2015
Where – Locations Vary (some are residential, some are commuter)
When – Dates Vary
Cost – Free
Register – See the FULL LIST of 2015 academies and select your grade for fall 2015.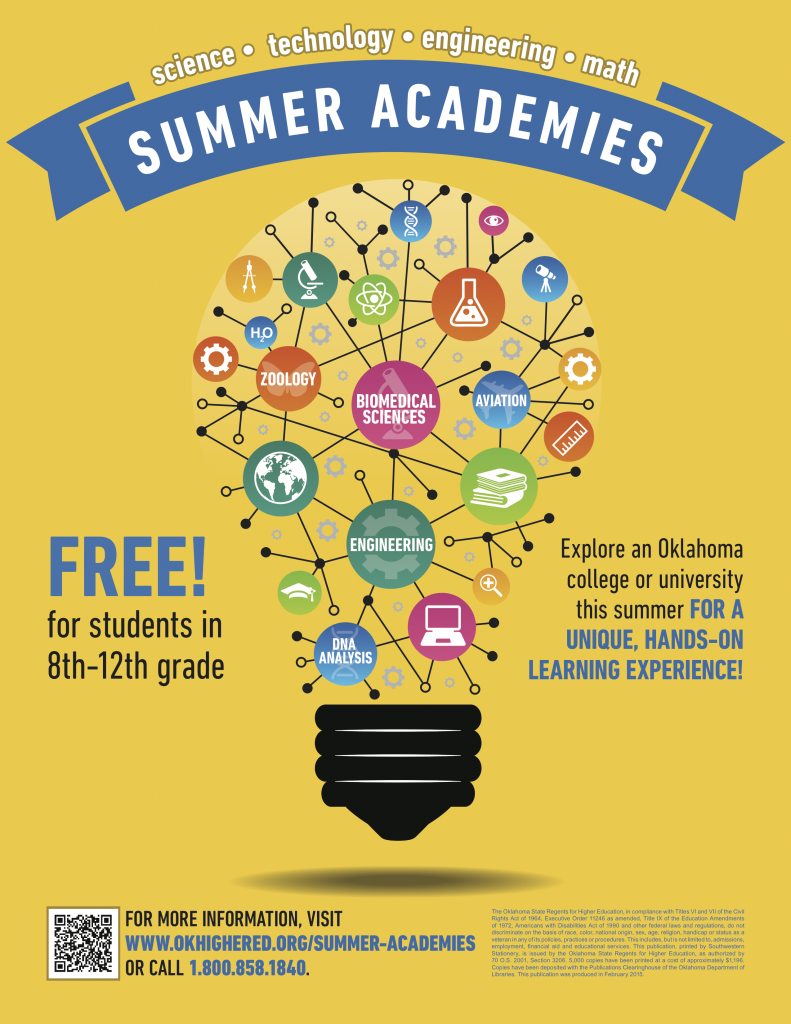 Why Should You Attend a 2015 Summer Academy in Science, Technology, Engineering, and Math?
Read what real academy participants are saying about Summer Academies…
"No field of study has started a fire within me like architecture and interior design has. Your enthusiasm for my ideas and designs was new and exciting for me. The very idea of my mind's eye being projected onto a blank canvas of earth for possibly hundreds of years keeps me awake at night."

"This is the best thing I will ever do this whole entire summer."

"I loved the hands-on experience; it wasn't anything like science class in school."

"College doesn't seem as unimaginable as before. I will definitely be going to college."

"The speaker was very informative – extremely! I really am considering an occupation in my academy's field."

"I really didn't know what biotech was before, and now I really do like it, and I think I would like to explore it more."

"The most interesting thing I learned was meeting new people."

"It really woke me up to what I'm about to take during college…"
Cool Facts About Summer Academies
26 Summer Academies are available this year at 17 different college campuses across the state.
More than 17,000 Oklahoma students have attended Summer Academies since 1990.
A greater percentage of Summer Academies students go to college immediately after high school compared to other students.
While in college, Summer Academies students are more academically prepared than their peers, requiring fewer remedial courses than all other students.
Summer Academies students earn degrees at a higher rate than other students.
All Summer Academies, even residential ones where students live on campus, are FREE.
Related Posts
Leave a comment
You must be logged into post a comment.