OKMath EdCamp at Vision 2020

An article by
Levi Patrick

No Comments
It's nearly here! Vision 2020 starts tomorrow and it is going to be spectacular.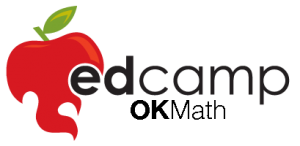 We are trying something new this year by hosting an un-conference within a conference. I've been practicing my "inception" skills so you may have recently dreamt about this. If that's the case, you may already know what is coming next.
Here's how the OKMath EdCamp will work.
Step 1: Decide – First, you need to decide if you're up to it. There are a few amazing math sessions happening Tuesday that are worth attending. If you are more for the well-defined structure of a conference schedule, you might navigate to some of the alternate sessions found easily through the Vision 2020 app for Apple and Android devices.
Step 2: Show Up – Supposing you're interested in a little more free-form learning, you're in the right spot. Well, if that spot happens to be Room 11 at 11:00am on Tuesday. In this session, we'll be discussing the OKMath EdCamp structure and will determine how the rest of the day will play out. See you there!
Step 2.5: Tweet – You have a Twitter account right? It's always nice (not necessary) to be able to connect with other "tweeps." Try signing up here. Install the Twitter app on your cellular device (original and my app of choice) and search #OKMath and #OKVision2020 to keep up with all the great happenings. You can also install a great app on your computer, TweetDeck, and fall in love with Twitter.
Step 3: Vote – The wonderful thing about the EdCamp model is that it is completely focused on the needs and wants of the participants. For this reason, we basically have the Launch session at 11:00am in Room 11 and that's it. The rest of the day is open and completely up to the participants who make their voice heard at the 11 o'clock session.
The way it works is this:
Everyone comes to Room 11 at 11am and posts whatever they want to learn about on the giant sticky notes.
If you're interested in learning about something that is listed, you put a + next to it. You get as many as you want, but you can only add one + to each topic…no more. This is done through the honor system.
If you're interested and experienced with something that is listed, you put a ★ next to it. This is in place of the +, so you can't add one of each. Again, if you are interested and experienced in everything, you could theoretically add a ★ to every item… again, the honor system is used.
Finally, a tally is made. The eight (8) topics that are the most desired by the participants are added to the agenda and we all celebrate.
Step 4: Consult the Agenda – The following spreadsheet *should* update when changes are made to it. After about 12:00pm on Tuesday, you can start seeing which sessions will be occurring where. (Since the embedded version isn't perfect, just follow this link for the spreadsheet.)

Step 5: Play by the Rules – Participating in an EdCamp is fundamentally different from the traditional conference structure. When you attend an EdCamp session, you are just as responsible for contributing to the conversation as anyone else is. To help you out, here are a few Rules of EdCamp Engagement to consider:
EdCamps are meant to be collaborative. If someone is "the presenter," find a polite way to involve others in a discussion.
EdCamps are meant to be social. Talk with people about what you're thinking, struggling with, and otherwise. Share your ideas on Twitter and Facebook. Don't be shy.
EdCamps are meant to be explorative. Ask questions. Find answers.
EdCamps are meant to be a launch pad. Don't end a session without asking yourself (and others) what's next. You only get about 45 minutes to discuss your ideas, but you might be able to connect with a group of educators who are willing to grow and learn more about the topic in the future. Don't let the conversations die.
EdCamps are meant to be exactly what you need. This isn't too impossible. Since this EdCamp is a bit on the small side, there won't be tons of options. Nonetheless, if you find yourself 15 minutes into a session and it isn't meeting your needs, meander on out of there to one of the other sessions.
EdCamps are meant to be less formal. Have fun. Chat. Challenge. Learn. It's completely up to you!
EdCamps are meant to be unexpected. Go with it. You never know what you might learn! With other OKMath educators nominating the session topics, you're sure to find something that is a shared interest and will benefit you as a professional educator.
Leave a comment
You must be logged into post a comment.