#OKMath Task Force Week 3

An article by Robbyn Glinsmann

No Comments
Welcome to Week #3 of the first cycle of the Math Task Force! Glad to have you back again!
[This warm up only lasts about 10 minutes. If you have the endurance for it, you can also do the Heavy Lift set that should last about 10-15 minutes.]
---
Part 1) Stretch It Out
Before we get rolling, let's take a moment to look at what we accomplished last week. In just a few days, 33 folks did the card sort using our activity from Desmos.com. Remarkably, two participants shined above the rest, having perfect matches! Here's to you, Beth Cook and G Wall, our Teach Body Body-Builder of the Week co-winners!
Now that we're past that, let's get our stretch on!
Building a Better Routine
We've spent two weeks now toning our question-asking skills and we're almost ready to really put that to good use. One opportunity we are trying to emphasize during the Task Force is that we can improve our collective teaching skills regardless of what course or grade we teach. It takes practice, though, and lots of it!
We've got three ideas we're going to cram together in a routine this week. With a low-bar, high-ceiling task based on Christopher Danielson and Mary Bourassa's work with Which One Doesn't Belong, we'll have a great opportunity to ask all sorts of questions, gathering information, probing for understanding, making math visible, and encouraging reflection & justification. Meanwhile, we'll deploy our teacher moves to keep the conversation going so that all students are able to engage as authors of their own mathematics learning. Just in case you need a refresher, here are some critical links to the resources from the last few weeks:
What is WODB?
It's actually pretty simple… let's start by having Big Bird explain it with an example:
The basic idea of "Which One Doesn't Belong" is really the same. Each of the four objects, for at least one reason, doesn't belong. All you have to do is come up with some type of explanation that you can defend. Let's look at this example taken from Christopher Danielson's blog:
If you are thinking, "It depends on how you look at it," then you've got the idea.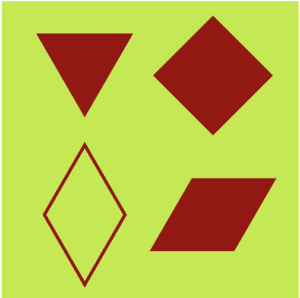 The bottom left shape doesn't belong because it's not shaded in

The top left shape doesn't belong because it only has three sides, while the others have four.

The top right doesn't belong because it is the only square

The bottom right doesn't belong because it's the only one resting on a side.
Making sense now? The range of WODB tasks is pretty extensive considering they've only become really popular in the Math Twitter Blog-o-Sphere in the last few years. Here are a few more examples for you to practice with before we start practicing our questions and moves with WODB.
If you are looking for some WODB tasks, start with WODB.ca. It's kinda of the mecca for these right now. Mary also has listed some really great blogs that are worth reading on her homepage. Also, if you love it a whole lot, check out Christopher Danielson's new book too!
---
Part 2) Cardio
To get a sense of what it looks like to combine the question types and teacher moves we've learned about that help us to drive conversation around mathematical ideas, we are going to look into Mr. Phillips' sixth-grade classroom. As you read, focus on each of the three distinct components… the task, the questions, and the teacher moves.
Q1) What did you notice about the questions Mr. Phillips asked his students during the activity that went beyond just gathering information or leading students through a procedure?
Q2) What did you notice about the teacher moves Mr. Philips used during this activity to help students learn through sharing their ideas?
Mr. Phillips took the time to carefully think through implementing a WODB activity combined with asking effective questions to generate a successful activity in his classroom in which students were sharing ideas. Perhaps more importantly Mr. Phillips was connecting different student's ideas with one another. Teacher moves combined with effective questions allowed Mr. Phillips to lead a productive classroom discussion.
Now are you ready to join in the fun??
Jog on over to Which One Doesn't Belong and take a look around. Meander through the countless examples of WODB graphics categorized by strand.
A few of our favorites are…
Maybe you want to start off simple with looking at letters.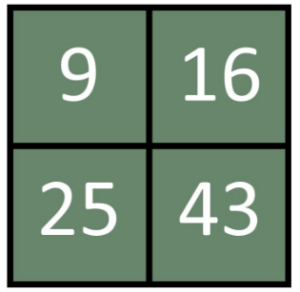 Using numbers in math class is always a good idea.
Coins are a great way to introduce graphics and numbers together.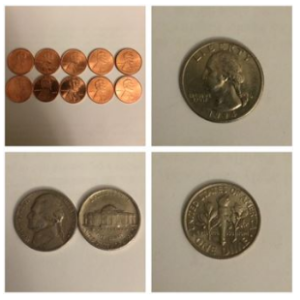 Fall does signal the end of baseball season and usher in football.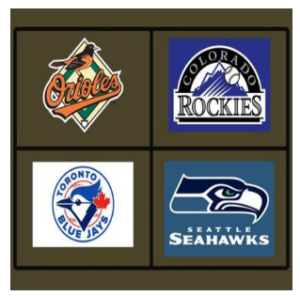 ---
From the examples above or the numerous ones listed on Which One Doesn't Belong, which one are you going to start with? Choose one and use it next week in your class. Take a few pictures during the activity to document the lesson and then use them during the Heavy Lift below! Don't forget to think through your questions from the beginning and utilize teacher moves to make your lesson a success!
Part 3) Heavy Lift
Many athletes practice in front of a mirror to fine tune their routines and clear up hang ups that keep reappearing. Reflecting after a lesson or at the end of the school day accomplishes the same goal for teachers.
Anytime you add a new routine to your workout, it takes time to really perfect it so that you are getting the best benefit from your effort. Adding new activities and routines in the classroom is no different. Thinking back through your WODB lesson, what worked? Did you stretch enough at the beginning so it wasn't much of a struggle or do you need a do a few more reps to improve your performance? Either way, reflecting on the activity will only make the next time that much better.
Remember how you were supposed to take pictures during your activity? Now is the time to put those pictures into use. Let's all share our WODB graphic we used in the classroom along with the 3 questions and answers from below to reflect on our own practice and learn from each other.
Go to your #OKMath grade specific Facebook group. (What, you aren't in a grade specific group? Read more about them in our #OKMath pinned post.)
In your grade-specific #OKMath group, post your WODB graphic along with your 3 answers from the questions below.
Comment on other teachers' posts, ask your own questions of each other to make the mathematics visible, learn from everyone's experience and now apply it to your own.
---
Question 1 – Which WODB did you choose and why?
Question 2 – What is one good question you asked to help students elaborate or clarify their thinking about the WODB?
Question 3 – How did you effectively use a teacher move to facilitate a productive classroom discussion?
---
Now that you've tested out the waters, are you eager to try it again?? GO FOR IT! Remember this quote by our favorite Teach Body Builder model Albert Einstein, " Never give up on what you really want to do. The person with big dreams is more powerful than the one with all the facts."
---
Stayed tuned for another warm-up activity next week!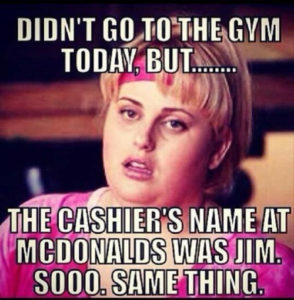 Related Posts
Leave a comment
You must be logged into post a comment.