OKSTEM Professional Learning Network

An article by
Levi Patrick

No Comments
Networking is one of the "great frontiers" for the educator profession. The proliferation of the Professional Learning Community has been one of the most amazing and profound advantages to the teacher of the 21st century. A recent tweet from Oklahoma's own Wesley Fryer requested that folks who teach STEM in Oklahoma get connected. And I think this is a fantastic idea!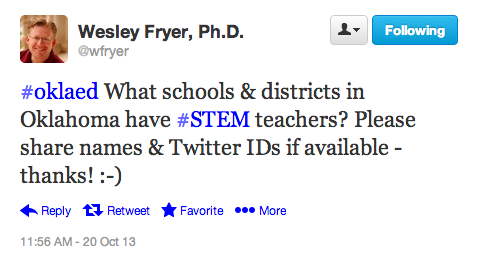 Because Wes is so amazing, he went above and beyond and created this list here: https://twitter.com/wfryer/stem-teachers/members. If you're a STEM teacher in Oklahoma (or beyond), you should not only subscribe to it, but you should tweet Wes and let him know you're out there.
Do you know of any other lists #OKMath teachers should know about? Please share them below. Include the name of the list, a link, and a short description.
Leave a comment
You must be logged into post a comment.